Museum Kimchikan: From Side Dish to a Notable Attraction
Planning a tour in Museum Kimchikan? Get your discounted admission tickets here.
The Rundown
Museum Kimchikan is an attraction in Seoul that will thoroughly educate you about the world-famous Korean side dish.

This site will  give you a taste (literally) of their various types of kimchi and even teach you how to make them.

Museum Kimchikan has been recognized by CNN as one of the top food museums in the world!

Entrance ticket fee is only around ₱243 or $5, if not discounted. You can check the rates here.

If you're set on buying a Discover Seoul Pass, know that you get automatic admission to Museum Kimchikan! You can learn more about the pass here.
Also read: Visit Seoul: Travel Guide to Myeongdong, Itaewon, & More
This Museum in Seoul Shows That Kimchi is Life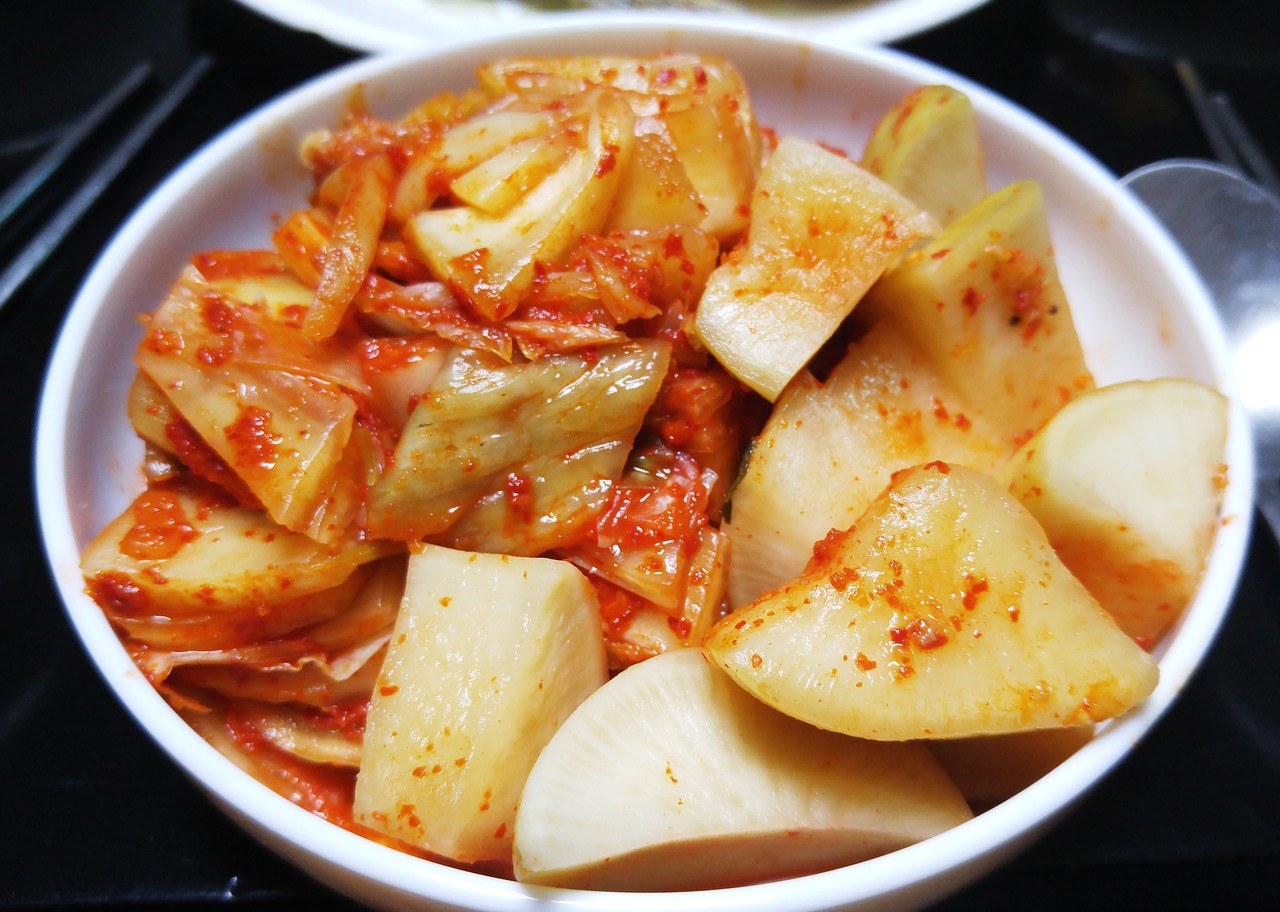 Koreans are serious about their kimchi.
Kimchi is an institution. It's a staple food item in every Korean household. Koreans eat it at any time and day since it makes a perfect pairing for any dish.
But do Koreans actually eat kimchi everyday? Fair question. Why don't we hear the answer from Sibongtv 시봉tv in his video below:
Interesting, eh?
At this point, it should be noted that there is a whole science and art behind making Kimchi, which is called Kimjang. It's a culinary method that dates from way back, and it's something partaken by families, friends, and neighbors, as you might have seen in a couple of Korean dramas.
Kimjang traditionally starts from sourcing fresh vegetables (includes cabbage, white radish, and spring onion, just to name the most common) and then seasoning them with salt, fish sauce, crushed pepper, and/or alcohol. Households will then follow their trusted fermentation technique, which is very crucial to achieve the right flavor and quality.
To share the wonders of Kimchi and Kimjang to the world, Museum Kimchikan (formerly Kimchi Museum) in Seoul was opened. The attraction offers extensive and high-tech areas for learning and appreciation, which is guaranteed to deepen your understanding of Kimchi. Museum Kimchikan's offerings include:
Audio-guided tours

KBS documentaries on kimchi

Scientist's Laboratory

Museum Kimchikan Exhibit Halls

Museum Kimchikan Kimchi Archive

Digital games

Kimjang Maru (Cooking Class!)

Arts Experience Space
Individuals or small groups may visit Museum Kimchikan without prior reservation.
Experience Programs at Museum Kimchikan
At Museum Kimchikan, you can make your own kimchi! You can reserve an "experience program" so you can get your hands on those cabbages. Offered classes include (may change without notice):
Whole Cabbage Kimchi Class at Museum Kimchikan

Learn how to make whole cabbage kimchi!

Thursdays at 2:20-3pm (40 minutes)

FEE: ₩20,000 (around ₱880 or $16.8)

White Kimchi Class at Museum Kimchikan

Make the essential side dish for winter

Wednesdays at 2:20-3pm (40 minutes)

FEE: ₩20,000 (around ₱880 or $16.8)

Kimchi Gongbang Class at at Museum Kimchikan

Design your own bags using stamps of various ingredients (garlic, cabbage, chili pepper, etc.)

Tuesdays-Sundays at 11-11:40am and 3-3:40pm

FEE: ₩6,000 (around ₱265 or $5)
The beauty about booking any of the classes at Museum Kimchikan is that you can brag about making your own kimchi and you get to bring it home! More info about reserving a class under TIPS! below.
BUY YOUR TICKETS!
Below we list two ways that you can gain admission, but first, here are some more photos of Museum Kimchikan that we found in Discover Seoul Pass's Facebook page:
OPTION 1: Buy a ticket for Museum Kimchikan
🏷 PRICE of Museum Kimchikan Ticket: ₱243 or $5, if not discounted!
Inclusive only of single admission to Museum Kimchikan

Ticket does not yet include any Kimchi-making Experience Program or class. (See TIPS! below for more info.)
Here are some reviews from the booking page of Museum Kimchikan:
OPTION 2: Buy a Discover Seoul Pass
If you're planning to visit a couple of Seoul's attractions like Gyeongbok Palace, N Seoul Tower, Leeum Samsung Museum of Art, and, of course, Museum Kimchikan, you may want to purchase a Discover Seoul Pass. This is an all-in-one attraction pass that can save you money. Learn more about it here.
🏷 PRICE of Discover Seoul Pass: starts at ₱1,760 or $33.7, if not discounted!
Inclusive of admission to Museum Kimchikan and at least 30 more locations!

Discover Seoul Pass also works as a T-Money Card so you don't have to buy one.

For more information, read our articles for Discover Seoul Pass and T-Money.
Here is a customer review from the booking page of Discover Seoul Pass:
TIPS!
For those who would like to sign up or enroll in a class at Museum Kimchikan, here are some info that we gathered from the attraction's website:

Those who want to make a reservation for Museum Kimchikan's classes are requested to email museum@pulmuone.com.

Experience Programs at Museum Kimchikan are only offered to tour groups with at least five (5) members. The booking may be cancelled if the minimum number is not met on the actual date of class.

Kimchi-making classes require reservation at least four (4) days before the visit. Schedules of classes may also be moved to suit the participants' itinerary, depending on availability. Coordinate your request to the museum.

Experience Programs are available in English.

For up-to-date information about booking a class at Museum Kimchikan, check out their website here.

If visiting with a large group (>19 pax), you must inform the museum ahead of time by emailing them.

For guided tours, a professional curator may be requested three (3) days ahead of time via email. The service is only offered to groups with at least ten (10) members. Time slots for the guided tours are 11am, 2pm, 3pm, and 4pm.

Did you know that Kimchi is said to be good for your health? Organic Facts states that incorporating Kimchi in one's diet may promote good digestion, regulate cholesterol, weight loss, and infection prevention. This does not come as a surprise since most pickled food items like Kimchi contain lactobacilli or the "healthy bacteria".

Aside from learning, tasting, and making your kimchi, you can also wear a hanbok at Museum Kimchikan. (I know, it's like killing two birds with one stone.)

Ideal length of tour at Museum Kimchikan: 1-1.5 hours
Museum Kimchikan: Address & Operating Hours
You can find Museum Kimchikan at this address; 35-4, Insadong, Jongno-gu, Seoul (4/F-6/F)
Here's how you can get to Museum Kimchikan in Insadong, Seoul:
By Subway (Line 1, Blue): Get off at exit No. 3 of Jonggak Station and turn around to the Kumkang Shoe Building. Go straight for about 200meters on the Insadong street and then turn left.

By Subway (Line 3, Orange): Get off at exit No. 6 of Anguk Station and walk for 300 meters on the Insadong Street. Turn right.

By Bus: Get off at exit No. 3 of Anguk Station, Woojungkuk Ro, and Jonggak Station.
Museum Kimchikan is open at these hours:
Tuesday-Sunday: 10am-6pm

Closed on Mondays, New Year's Day, Lunar New Year's Day, Chuseok holidays, and Christmas
Tour Inspiration: Museum Kimchikan
To get you excited for your trip to this delightful attraction in Seoul, check out these geotagged photos on Instagram!
Stay Updated
Like ManilaxSeoul on Facebook and Instagram to get the latest updates on Museum Kimchikan and other Seoul travel guides!